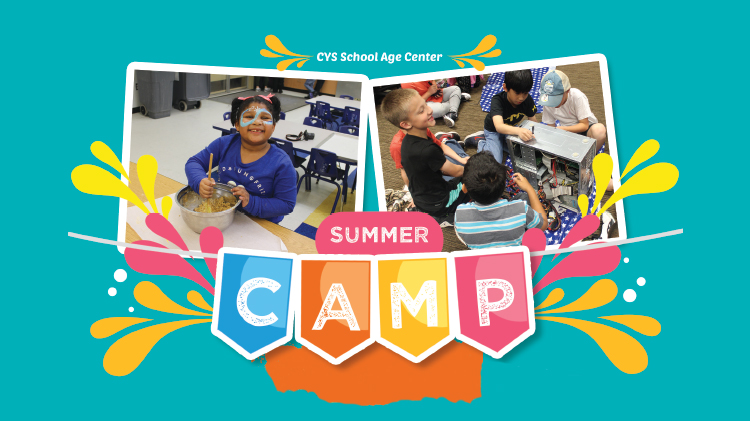 Summer Camps at the School Age Center
Note: This event has already passed.
Date: May 20 2019 - Aug 16 2019
Have a Summer like no other! The School Age Center will be offering summer camps for all ages and interests! Summer Camps will be held May 20 through August 16.
During the first week of camp, kids will be grouped into grade levels and oriented to Summer Camp. It's time to break the ice and get to know each other through ice breakers and team building exercises, as well as hands-on activities throughout the week. We'll learn the Summer Camp ruls and expectations, plus build lasting relationships!
Kids will get to choose their top 3 favorite camp picks each week they will participate. There is a variety of camps to choose from. Check out all the fun camps being offered this summer!
Sports Camps
Samoan Dance Camp
Adventures in Showbiz
Call of the Wild
Water & Sand Camp
Taekwondo Conditioning
A Star Spangled Summer: Read, Write and Do
Young Engineering
FBI Camp
Art through Nature
Japanese Camp
SAC Idol
Children Around the World
Cooking and Baking Camp
Flight/Space Camp
Apocalypse Camp
Lego Robotics
Amazing Race Camp
Sewing Camp
Slime Camp
Rolling in the Doh
Painting Camp
Camping & Adventure Skills Camp
Legos, Legos, and more Legos
DIY Life Skills
Poetry in Motion
Youth Sports & Fitness Flag Football
Computer Art Camp
Geography Camp
Wood Working Camp
Story-Tellers in the Making
Dr. Seuss Camp
Download the full booklet here.
The booklet includes camp descriptions, the schedule, and registration information.
Cost
Based on Income Fee Categories
Registration Info
Child must be registered with Parent Central Services prior to camp registration. Contact Parent Central Services by calling (907)353-7713.
Please go to MCC.com to place your child on the wait list.
The completed form in the downloadable booklet above must be submitted to the School Age Center, building 4166 Neely Road.
Contact